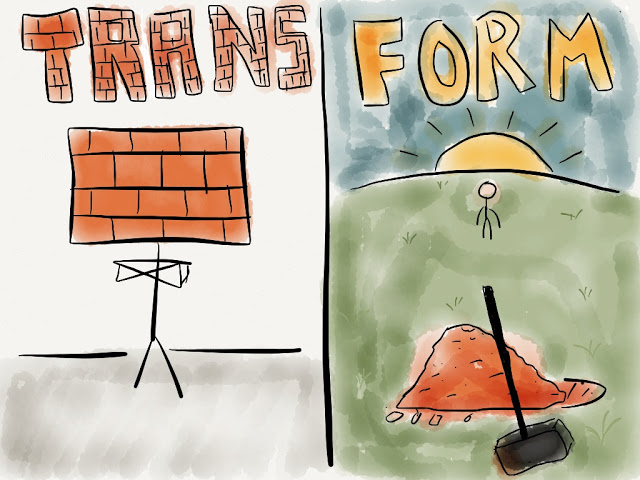 The life of a Christian is one characterized by a continuing renewal of the mind, body, and spirit. When we are called by the Holy Spirit to a relationship with Christ, we are really being called to completely transform. Paul says in Romans 12:2, "Do not be conformed to this world, but be transformed by the renewal of your mind, that by testing you may discern what is the will of God, what is good and acceptable and perfect."
He also says in 2 Corinthians 5:17, "Therefore, if anyone is in Christ, he is a new creation. The old has passed away; behold, the new has come." It is evident that scripture affirms the call to transform and become new, but how many of us in our walks are really living transformed lives? How many of us are living to the standard that Christ calls us to?
Before we enter into a relationship with Christ, we have walls built up in our hearts and in our minds. Those walls are made from every aspect of our inherently sinful desires. Our bricks and mortar are our fears, our anger, our anxieties, our grudges, our insecurities, our impatience, our lusts, our doubts, and our heartbreaks: all able to be described as sin. The more walls we have built up, the more difficult it is to crack away at the already intimidating structure in front of us. Knowing how difficult it is to break down those walls as a follower of Christ, I cannot even begin to understand how difficult it is to try and dismantle those walls without the help of a Father, Savior, and Counselor.
I've found in my walk that my own walls have prevented me from living a life that is fully focused on God and His plans. My walls distract me. I'll think about how much I dislike someone, or how someone may have wronged me, or how inadequate I feel when I let someone down. All of these walls inhibit my growth and shelter me in. I feel trapped. I feel bound. I feel like all the transformation that may have occurred in me during a time of great growth and spiritual boldness is shot, like it never really occurred.
This is the downfall of a Christian. We become so hardheaded and calloused to the fact that these walls exist and continue on in the same direction without ever truly understanding change. We come to accept our walls as permanent structures within us and begin to build pillars around them. We make those walls, all the things we choose to not give to God, into temples. We do this because they're not really that big of a deal.
We do this because are too prideful to let God have His transforming power over them.
It is time to face the truth my friends. We are stubborn, brick-headed, prideful, and we weaken the power of the cross to change our hearts, minds, and souls. It is time to make a change. It is time to take the sledgehammer that is Christ's love and strength to our walls. Until we are able to break through our man-made temples we will never have the strength or determination to speak and act boldly for our King.
One of my favorite verses in the Bible (also the inspiration for my wrist tattoos) is found in Romans 6:6 where the Apostle Paul writes, "We know that our old self was crucified with Him in order that the body of sin might be brought to nothing, so that we would no longer be enslaved to sin." We do not have to be chained to our walls anymore. We do not have to feel surrounded by our bricks because through our acceptance of Christ as our Savior, we have put to death our old ways and our old bodies. Our walls have been torn down through His sacrifice and grace for us and we are called to live on and be transformed.