This world is one that is significantly scarred and marred by sin. Lives are cut short by maniacal gunmen, disease obliterates entire populations, the suicide rate continues to soar, and families continue to lose loved ones. There is no reason to possibly explain why these things would happen except sin.
It doesn't sound fair. Why do bad things happen to good people? If there is a "god" that is so loving, why all this war? Why all this sickness? Why all this death? It is because of sin.
The Fall has cast a dark shadow over humanity and none are exempt from the inheritance of original sin. We are deserving of Hell with our first breath, with our first cry. We do not deserve life, and yet we are given life so freely through Christ's sacrifice.
It is not that God is sitting up on His throne in Heaven waiting to "cast sinners into the lake of fire" simply because He wants to. This was not God's original plan for us. Look back at Genesis 1. He made us for eternal community with Him. He made us so that we would be able to walk through the Garden with Him and enjoy the fruit of Paradise and His creation. He made us last. We were the culmination of all His work. We were His greatest creation.
But we screwed it up. We got prideful. We wanted to be on the same level as our Creator. The clay wanted to tell the potter how it was supposed to be shaped. We failed against temptation and we sinned.
God cannot and will not tolerate sin, because He is wholly just and the price of sin must be paid.
That is where Christ comes in. The Anointed One, the Lamb that was Slain, He was the payment for our sin. Every sin that we have ever, and will ever commit, was paid for through Christ's sacrifice on the cross. As the nails were driven into His hands and feet, He was thinking about you. He was thinking about how much He loved you and that He was willing to die in the most excruciating way possible, for you. The lowly and wretched sinner that you are, He died for you. The One that sees even your most hidden and darkest sins, He died for you. The shame with which you hide your face does not shield yourself from His gaze. But He does not look at you with judgement or conviction, He simply extends His hand towards you and you have the choice to grasp it or continue to cover your face.
There is hope in this broken and fallen world. There is hope for those that are struggling, those that are at their ropes' end, those that can't take another day. You will never find that hope in anything else. Not in your bank account, not in a boyfriend or girlfriend, not in your reputation, not in your success, not in your career. These things will all disappear and fade away at your life's end. The only place you will ever find true hope is in a relationship with Jesus Christ. He will provide financially, emotionally, physically, and spiritually. You will never be empty again, you will never feel the need to search for something to fill that void. The love of Christ and the Wisdom of His Spirit abundantly flows to make your cup runneth over.
My cousin Jori, that passed away from cancer three years and three days ago, believed this with all her heart. She believed that even in her debilitating state, Christ had a plan for her pain. She believed that even as she was wasting away, He had a purpose for her sickness. Jori believed with all her heart that her Savior was alive and that He was the sole reason this life of pain was bearable. Her journals are filled with prayers for healing, and praises for His sacrifice. Not once did she ever lose hope, because she was filled with the Spirit and the Spirit was her guide. She knew that this life was only temporary and that the important things according to this world are not really all that important.
She is spending the rest of eternity doing exactly what God intended her to do. She is spending the rest of eternity in community with the body of believers and the Savior that set us free from the judgement of sin.
Don't waste your life on the this world and the things that aren't really that important. We will all make the decision to either follow or go our own way and you will find that this decision affects much more than the temporary life we live on this world. Make the right decision. Our time is fleeting.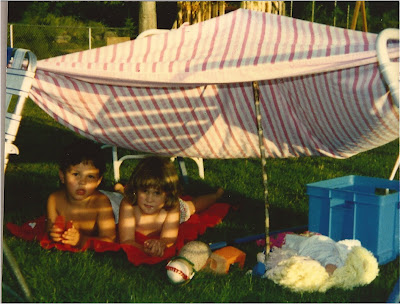 You are no longer hurting, no longer in pain, no longer weighed down by your sin. You are free and I can't wait to see you. Until Eternity.